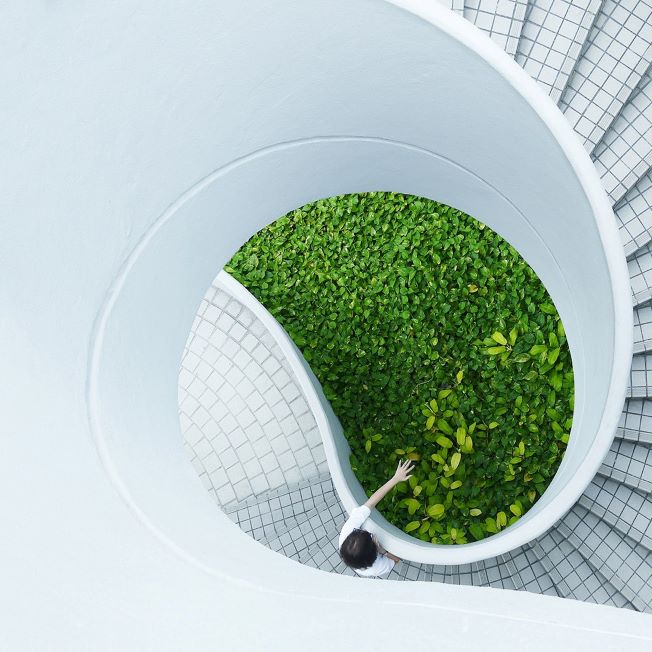 Ireland as a domicile for venture capital funds
Ireland as a domicile for venture capital funds
Ireland, a member of the European Union, has been a leading funds domicile for more than 30 years and is the largest alternative investment fund centre in the world. Upwards of 40 percent of global alternative investment funds assets are serviced in Ireland. Ireland was the first regulated jurisdiction to provide a regulatory framework specifically for the alternative investment fund industry.
With a successful track record in the alternatives space, Ireland is highly regarded by fund promoters and sponsors as an attractive, tax-efficient and innovative jurisdiction in which to domicile their regulated and unregulated venture capital funds.
Ireland has a deep level of expertise in venture capital products, including regulated and unregulated funds, with leading service providers across a range of sectors physically based in Ireland, including fund formation services, asset management, fund administration and transfer agency, legal, audit, tax and compliance services.
Key fund structures
To assist in identifying the optimal structure for fundraising, here is an overview of typical Irish regulated and unregulated fund vehicles suited to housing venture capital strategies:
1907 Limited Partnership (1907 LP) – Unregulated – The 1907 LP is a common law limited partnership constituted under the Limited Partnerships Act 1907, as amended. The 1907 LP has been frequently utilised in recent years by Irish and international venture capital groups. As 1907 LPs are not subject to regulation, they are cost effective to establish and operate. A 1907 LP may, subject to certain restrictions, avail of the pan‑European marketing passport under the Alternative Investment Fund Managers Directive (AIFMD) provided that a fully authorized Alternative Investment Fund Manager (AIFM) and depositary are appointed.
Irish Collective Asset-Management Vehicle (ICAV) – Regulated – The ICAV is a tailor-made corporate vehicle designed specifically for Irish investment funds. Unlike an investment company, it is not subject to certain pieces of company legislation that are targeted at trading companies. Since its introduction in 2015, the ICAV has become the predominant corporate vehicle of choice for structuring regulated venture capital funds. ICAVs with a venture capital strategy are required to be regulated by the Central Bank of Ireland as Qualified Investor Alternative Investment Funds (QIAIFs). Please see below for further information on the QIAIF product wrapper. Depending on the authorization of the appointed AIFM, an ICAV can typically use the AIFMD marketing passport.
Investment Limited Partnership (ILP) – Regulated – The ILP is a common law partnership of two or more persons having as its principal business the investment of its funds in property of all kinds and consisting of at least one general partner and at least one limited partners. In light of recent enhancements to its legislative regime, the modernised ILP is viewed as a game changer which will bring an increasing number of fund promoters to Ireland to establish their venture capital funds. Depending on the authorization of the appointed AIFM, an ILP can typically use the AIFMD marketing passport.
Other structures, such as the common contractual fund and unit trusts, are available, but are typically used by asset managers for more bespoke products.
The following table is a non-exhaustive high-level summary of the main differences between a QIAIF ICAV, a QIAIF ILP and the 1907 LP.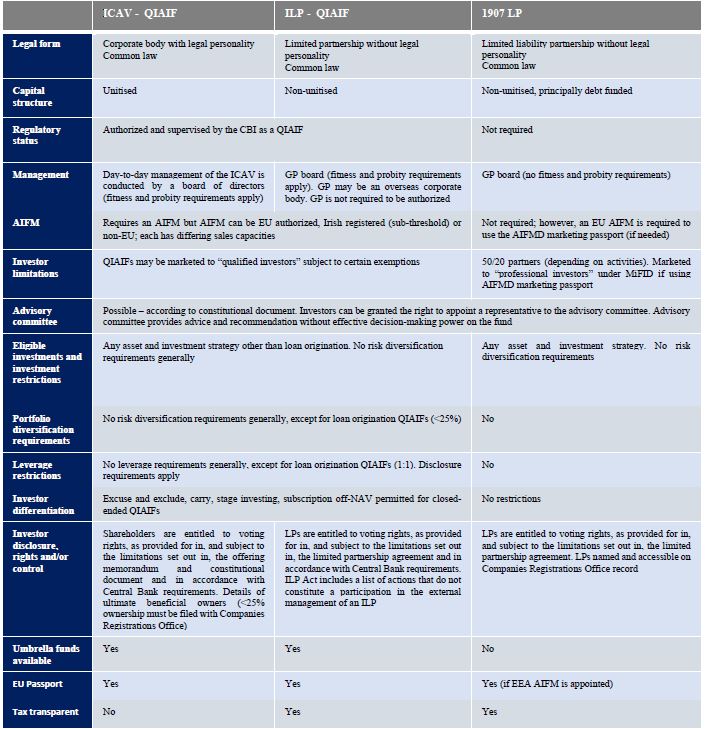 Qualified Investor Alternative Investment Fund – regulatory wrapper
QIAIFs are Irish-regulated AIFMD-compliant structures aimed at sophisticated or institutional investors. Key features of a QIAIF are:
| | |
| --- | --- |
| 24-hour fast-track authorization process – QIAIFs that have an authorized Alternative Investment Fund Manager ("AIFM") can generally be authorized within 24 hours of application to the Central Bank. | AIFM appointment required – An AIFM must be appointed in respect of a QIAIF product, which can be an EU-authorized AIFM, Irish-registered AIFM or a non-EU AIFM. The authorization of the AIFM will impact the availability of the AIFMD marketing passport, which is only available to an authorized EU AIFM. |
| Asset types and investment strategies – A QIAIF can generally invest in any asset type and conduct any investment strategy, including venture capital strategies. QIAIFs can hold a wide range of assets, including equity investments and debt, either directly or through a conduit vehicle. | Diversification requirements – QIAIFs typically have no diversification requirements, which facilitates venture capital investments. |
| Borrowing and leverage – QIAIF ILPs typically have no limits on borrowing or leverage. | Flexible capital / liquid structures – Subscriptions can be on a full or commitment basis and QIAIFs are capable of being open ended, open-ended with limited liquidity or closed-ended. |
| Access to European capital / passport – QIAIFs that have appointed an authorized AIFM can use the pan-European AIFMD passport and can be marketed into any EEA country, subject to a straightforward notification procedure via the marketing passport, similar to the marketing passport for UCITS. Otherwise, marketing is on a private placement basis. | Minimal ongoing reporting and publication requirements – QIAIFs are required to produce and provide to investors an offering document and financial statements and to provide the Central Bank with certain statistical data on an ongoing basis. |
| Investor eligibility – QIAIFs may only be marketed to "qualified investors," which include (i) a professional client within the meaning of AIFMD; (ii) investors with an appraisal certifying their suitability from an EU credit institution, MiFID firm or UCITS management company; or (iii) an investor that self-certifies to having sufficient knowledge and experience or actively engaging in business in the same type of assets as the fund is offering. | Minimum investment – Investors must subscribe for a minimum investment/commitment of €100,000 or its equivalent in foreign currency (or €500,000 for QIAIFs that invest 50% or more into an unregulated fund). Subject to the completion of appropriate certification requirements, there is an exemption from the minimum subscription requirements for individuals connected with the management of the QIAIF. |
EuVECA – regulatory wrapper
The Irish European Venture Capital Fund (EuVECA) structure can also elect for the EU label for managers of investment funds investing primarily in venture capital. Subject to compliance with eligible asset diversification and other rules set forth in applicable EU regulations, registered EuVECA managers benefit from a "passport" enabling them to market their funds to qualified investors throughout the EU. EuVECA may represent a great opportunity if you are or contemplate being based in Ireland.
How can DLA Piper Ireland assist?
At DLA Piper, we have extensive experience in venture capital including the structuring, formation and financing of unregulated and regulated Irish and international venture capital funds as well advising funds, investors, management and investee companies on the full range of venture capital transactions.
We have teams of lawyers dedicated to helping founders, entrepreneurs, startups and emerging growth companies, whether in the technology, life science, healthcare, consumer or entertainment industries, and angel and venture capital funds, corporate strategic investors and other institutional investors with their venture capital or other strategic transactions.
As a truly global law firm, DLA Piper is strategically positioned to serve and support emerging growth companies and venture capital and other institutional investors wherever they do business.
Download PDF